BOOK REVIEW: Jesus says go
"Our commitment is to Christ, not our own fulfilment". Robin Wells (p46)
This book is a fresh challenge for every Christian to consider their place in global mission. It unpacks why today's generation should obey Christ's final commands, and what it takes to go and make disciples overseas.
A call to mission
Question: So whom does God call?
Answer: Believers from all ages and walks of life.
This is illustrated through the mixture of examples shared in this short book. We encounter snapshots from singles and married couples, long and short-term workers. Their obedience to Christ led them to live and serve in Ethiopia, Belgium, Russia, Philippines and Central Asia.
A call to be biblical
Each punchy chapter confronts our need to have a biblical worldview on a variety of issues. Without realising it, our thinking as Christians can reflect the me-first attitude dominant in consumer cultures. Is it really God's will that we live only for our ambitions, comfort and security?
This book places the Lord, and His plans to rescue the nations, centre stage in our thinking.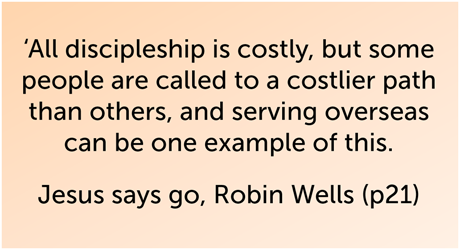 A call to discipleship
Be reassured, this book isn't a guilt trip. It consistently underlines the truth that God is sovereign and leads His children into different areas of ministry. It neither romanticises mission work nor diminishes the urgency of the need to reach the unreached.
The author desires that you finish the book inspired to serve Christ wholeheartedly, trusting Him to use your gifts for His glory…wherever He may lead you.
Details
Jesus says go, Robin Wells, Monarch Books: Oxford, UK & Grand Rapids, USA 2006, (ISBN 978-1-85424-730-8)
Chapters include: Cultures of comfort, Entering another's world, Expectations in our ministry, Money and standards of living, Career prospects, Such dangerous places!, Marriage, family life and singleness, What do we owe our children?, Christ with us.
AWM recommends
For essential reading for mission in the Arab world at great prices visit our recommended list on 10ofthose.com or click the logo below.

Related content
Miraculous Movements – book review
Jesus Driven Ministry – book review
When Helping Hurts – book review