VACANCY: Finance and Operations Manager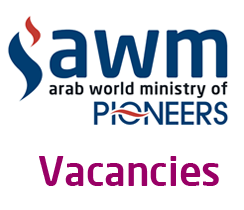 APPLICATION DEADLINE: 5PM THURSDAY 20 JANUARY
CONTRACT TYPE: Permanent, full-time role, salary on full job description
LOCATION: LOUGHBOROUGH, LEICESTERSHIRE
Are you gifted in finance, able to manage people and processes and have a passion for serving God?
We are currently looking for an experienced Finance person to join our leadership team, manage two members of staff and oversee the financial and operational matters for AWM-Pioneers from our Loughborough office.
We are seeking a committed Christian who has relevant qualifications, a proven track record of managing people and able to hit deadlines for governance and financial reporting.
About us


AWM-Pioneers is a Christ-centred organisation serving around 90 long-term Christian workers involved in cross-cultural ministry.
We are part of the Pioneers family which is a fast growing international mission movement with over 3,000 Christians involved in church planting among unreached people groups.
About the role
For this full-time role, you will:
Have a heart for Christian ministry and be comfortable working with others in a team context.
Be confident managing the operation of member support accounts with discretion and handling other specific funds (e.g. appeals).
Be able to prepare, monitor, report and advise upon budgets and other financial regulatory matters, for presentation to the Leadership Team and the Board of Trustees.
Be able to lead on income tax, pensions, related benefits and national insurance information relevant for various stakeholders.
Be familiar with software systems for both accounting and reporting, and be able to monitor and maintain systems used to transfer financial data between payroll, database and accounts software.
Be responsible for managing purchases of our annual insurances, controlling all aspects of property usage and maintenance and managing our IT contract.
Be self-motivated, organised and experienced in management and governance.
It is a genuine occupational requirement that you are a committed Christian and in full agreement with the aims and goals of AWM.
Want more detail?
You can download a full job description here.
You can download an application form here.
How to apply
Email Carla, part of the HR team, on carlas@awm-pioneers.org to submit your application. You can also request further information about the vacancy by emailing Carla or phoning the office on 01509 239 525 and asking for Phil, our National Director.
Application deadline
The application deadline is 5pm on Thursday 20th January 2022.