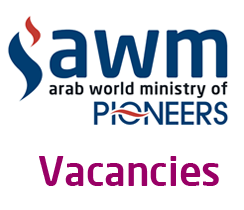 CONTRACT TYPE: SALARIED, FULL-TIME, 1 YEAR FIXED-TERM
LOCATION: LOUGHBOROUGH OFFICE
We're looking for someone who actively follows Jesus, has a passion for world mission and natural skills in enthusing and developing people. If this is you, get in touch about serving alongside our Mobilisation and Communications teams for a year.
This is an exciting opportunity for someone to dedicate a year to working with our Mobilisation team in inspiring, connecting and equipping people to find their calling in cross-cultural mission, while spending time contributing to communication projects across our digital platforms and lending a hand in practical office functions for a contemporary mission agency.
Job responsibilities
This job would be a good fit for someone who is good at relating to a range of people at conferences and in deep one-to-one chats, possessing creative writing skills and a servant-heart. Some specific tasks involved in the role are:
To represent AWM at CU, church mission events, and  Christian conferences and to follow up with initial contacts.
Make initial contact with enquirers who come to us via recommendation or through the website and social media.
To coordinate and process applications for our short-term teams programme (called EDGE) for 2022.
To help upload social media content, particularly to Instagram, and to help grow our supporter base through social media with the Fundraising Co-ordinator.
To develop capacity for digital communications, particularly in digital fundraising with the Fundraising Co-ordinator.
To help with other office tasks when required and time allows.
(Please note that in order to fulfil the full requirements of this role, it is essential that the post holder is a committed Christian.)
How to apply 
EMAIL DAN, our Mobiliser and Training Coordinator, for more information about the post, and to receive an application form.
Key dates
Application deadline: 9th September
Ideally the successful candidate will be able to start early October.