APPLICATION DEADLINE: 9th September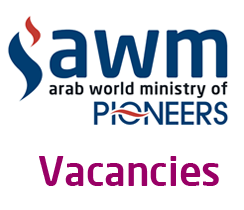 CONTRACT TYPE: Part-time (weekly pattern negotiable), salaried role £18-£19,000 pro-rota (depending on experience), office-based
LOCATION: LOUGHBOROUGH, LEICESTERSHIRE
Would you like to help AWM-Pioneers by working in our Loughborough office?
The Finance Department deals with donations and expenditure, and would like to hear from someone who could help out part-time.
This is a vital support role, the main purpose of which is to handle money on behalf of Christian workers serving in the Arab world. It would suit a committed Christian who would love to use their office and administrative skills in a team that seeks to help build the Kingdom by supporting those who work 'full-time' in that challenging field around the world.
About us

AWM-Pioneers is a Christ-centred organisation serving around ninety long-term Christian workers involved in cross-cultural ministry.
We are part of the Pioneers family which is a fast growing international mission movement with over 3,000 Christians involved in church planting among unreached people groups.
About the role
For this part-time role, you will:
Have a heart for Christian ministry and be comfortable working with others in a team context.
Be able to work methodically and with attention to detail.
Be good with numbers as well as basic PC skills.
Be flexible in working approaches and willing to help find solutions.
Work with the Finance Co-ordinator in all aspects of processing donations from receiving, allocating, receipting and performing bank downloads.
Handle cash, cheques, charity vouchers, and be responsible for banking monies.
Correspond responsibly and confidentially with donors regarding relevant details, handling queries, and sending appropriate forms.
Support the Finance team in record keeping, filing and finance administration as required.
Join in with the daily prayer meeting.
In order to perform this role, it is essential that the post holder is in full sympathy with the aims and goals of AWM. To that end he/she must be a committed Christian [able to agree with the organisation's statement of faith] and able to fully participate in spiritual activities whilst carrying out the responsibilities of Finance Assistant.
How to apply
Email Carla, HR Assistant at carlas@awm-pioneers.org or phone the office on 01509 239 525 for an application form.
Application deadline
The application deadline is 9th September.
Interviews are currently scheduled for the following week depending on the availability of the shortlisted candidates and interview panel.