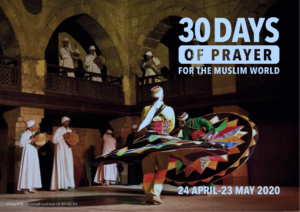 What is Ramadan?
Ramadan starts on 23/24 April and begins a 30-day fast for Muslims worldwide. Islam expects its followers to observe this holy month every year and use this time to focus on their moral, religious and relational aspects of their lives.
Many Muslims will rise early to eat before sunrise before abstaining from food and fluids until sunset throughout Ramadan.
Christians unite to pray for Muslims
To coincide with Ramadan, Christians worldwide have united across denominations to pray for God's grace to impact Muslims. An excellent prayer resource called 30 DAYS OF PRAYER is produced each year to provide informative and inspiring content to educate and resource Christians and prayer groups to join in prayer.
A global movement of prayer
This will be the 28th year of the 30 DAYS OF PRAYER for the Muslim world prayer guide. Last year, just under one million guides were distributed globally in 30 languages and 40 nations. This included 24,000 guides in Great Britain and Ireland.
The theme for the 2020 guide is 'Movements within Islam', which takes a closer look at the different ideologies, cultural practices and beliefs within this world religion.
Will you join thousands of Christians worldwide to pray for the love of Christ to impact Muslim people this Ramadan?
How to order
Simply email Marie, our Prayer Co-ordinator, at mariep@awm-pioneers.org to place your order of the 30 DAYS OF PRAYER guide. A single copy costs £2.50 including postage and we have promotional prices for supporters and discounts for bulk orders. Contact us for further details.
NOT IN THE UK? We would recommend that you contact the 30-DAYS-OF-PRAYER dedicated website to order your copy at the best mailing price for your region.