APPLICATION DEADLINE HAS NOW PASSED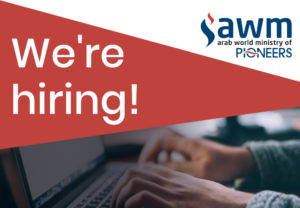 CONTRACT TYPE: SALARIED, FULL-TIME, PERMANENT
LOCATION: LOUGHBOROUGH, LEICESTERSHIRE
Do you share our unswerving passion for serving God's mission in the Arab world as the gospel is shared in word and deed among Muslim people? Are you a strategic thinker with experience in articulating a vision and developing plans to see the vision established? Have you been gifted in communication and honed your public speaking skills to motivate listeners to action?
AWM-Pioneers is looking for a National Director who will have responsibility for giving a strategic and visionary lead to the organisation as it mobilises the UK Church to join in God's mission among Arabic-speaking Muslims wherever they are in the world.
About us

AWM-Pioneers is a Christ-centred organisation serving around 90 long-term Christian workers involved in cross-cultural ministry.
These workers are supported by a hard-working and gifted team based either in the Loughborough office or remotely working from the UK in areas of: recruitment and training, communication and support raising assistance, sending church partnerships, finance and administration support and ongoing member care.
We are part of the wider Pioneers family which is a fast growing international mission movement with over 3,000 Christians involved in church planting among unreached people groups.
About the role
For this full-time role, you will:
Have a love for the Lord and His work among Muslims of the Arab world.
Have a strong biblical grounding, and wholeheartedly embrace our doctrinal statement, values, aims and goals.
Be a strategic thinker with the ability to articulate your vision clearly and develop plans for implementation.
Be an inspirational communicator with recognised public speaking skills
Be able to ensure there remains a strong relational connection between AWM-Pioneers and field teams, area leaders, international leaders and other sending offices in the Pioneers family.
Be willing and able to travel as required throughout the UK, Arab world and internationally to fulfil the role.
Have a proven track record in financial acumen and be familiar with profit/non-for-profit organisational operations.
Have a relational approach to leadership, with interpersonal skills, self-awareness, the ability to motivate people and a track record of team building.
Report to the UK Council (board of trustees) providing information, keeping them informed on strategic matters and enabling their governance function of the charity to be fulfilled and ensuring our duty of care, legal obligations and organisational policies are followed.
Participate with the daily prayer meeting and monthly prayer days.
In order to perform this role, it is essential that the post holder is in full sympathy with the aims and goals of AWM. It is an occupational requirement that he/she must be a committed Christian [able to agree with the organisation's statement of faith] and able to fully participate in spiritual activities whilst carrying out the responsibilities of National Director.
Application deadline
The application deadline closed on Friday 29 November 5pm (GMT).
Recruitment details
Shortlisting is currently scheduled for mid-December onwards with interviews being held in mid-January 2020.
Subject to screening, references and other HR/legal requirements the successful candidate is expected to start as soon as possible, ideally from February 2020.