APPLICATION DEADLINE HAS NOW PASSED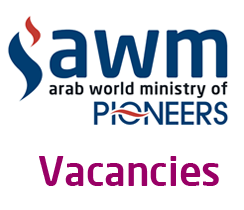 CONTRACT TYPE: SALARIED, FULL-TIME, PERMANENT
LOCATION: LOUGHBOROUGH, LEICESTERSHIRE
Would you like to serve gospel ministry in challenging parts of the world by supporting and encouraging workers sent from our Loughborough office?
AWM-Pioneers is looking for a full-time Member Care Manager who will have responsibility to care for all our members in either active service or in retirement from cross-cultural ministry.
Do you have a compassionate heart, experience in signposting Christians to appropriate care, and the ability to spot underlying issues in a timely fashion before they become a pastoral crisis? Perhaps the Lord has prepared you to help build His Kingdom in this behind-the-scenes way as you serve our diverse mission family of singles, couples and families?
About us

AWM-Pioneers is a Christ-centred organisation serving around 90 long-term Christian workers involved in cross-cultural ministry.
We are part of the Pioneers family which is a fast growing international mission movement with over 3,000 Christians involved in church planting among unreached people groups.
About the role
For this full-time role, you will:
Have a love for the Lord and His work among Muslims of the Arab world.
Have a desire and ability to work alongside others and be a team player.
Be a prayerful, spiritually mature person with experience of facilitating other people in their calling and ministry.
Be flexible in working approaches and willing to help find solutions.
Be willing and able to travel as required throughout the UK, Arab world and other locations that are needed to fulfil the role.
Ensure there is a regular connection between our diverse membership and the Loughborough team.
Correspond responsibly, promptly and appropriately with members and retirees about their various queries including financial, pastoral and ministry direction concerns.
Support the HR Director in confidential record keeping, filing and maintaining key details required for fulfilling our duty of care, legal obligations and organisational policies.
Participate with the daily prayer meeting and monthly prayer days.
In order to perform this role, it is essential that the post holder is in full sympathy with the aims and goals of AWM. To that end he/she must be a committed Christian [able to agree with the organisation's statement of faith] and able to fully participate in spiritual activities whilst carrying out the responsibilities of Member Care Manager.
How to apply
Email Carla, HR Assistant, at carlas@awm-pioneers.org to request a full job description and application form or contact Helen our HR Director on 01509 239 525 to discuss the vacancy over the phone.
Application deadline
The application deadline for this vacancy has now passed.