APPLICATION DEADLINE HAS NOW PASSED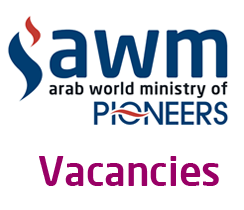 CONTRACT TYPE: SALARIED, FULL-TIME, 2-YEAR FIXED TERM CONTRACT
LOCATION: LOUGHBOROUGH, LEICESTERSHIRE
Would you like to serve gospel ministry in challenging parts of the world by enhancing the Loughborough sending office team with your administrative and problem-solving skills?
AWM-Pioneers is looking for a full-time Database and Website Assistant. To have responsibility in maintaining the accuracy of our database, helping to fulfil our mailings and keeping our website running properly.
Do you like to cut to the heart of problems and get them fixed efficiently? Do you find that you can't help but persevere through spreadsheets until the data submits to your objectives? Are you someone regularly relied upon to implement solutions because of your eye for detail? Perhaps the Lord has prepared you to help build His Kingdom in this behind-the-scenes way as you serve with our small but productive Communications team.
About us

AWM-Pioneers is a Christ-centred organisation serving around 90 long-term Christian workers involved in cross-cultural ministry.
We are part of the Pioneers family which is a fast growing international mission movement with over 3,000 Christians involved in church planting among unreached people groups.
About the role
For this full-time role, you will:
Have a love for the Lord and His work among Muslims of the Arab world.
Be able to work both unsupervised in isolation, and as part of a team.
Be a team player with a strong work ethic.
Have the ability to adapt to changes in communications, IT and technology.
Have an attention to detail and perseverance to complete tasks.
Be self-motivated with strong organisational and administration skills.
Be competent with computers and Microsoft Excel or an equivalent programme to work with spreadsheets.
Support the Assistant Communications Manager in data processing, ensuring that the selection, merging and sharing of supporter data is handled responsibly and accurately in line with best practices, legal obligations (like GDPR) and organisational policies.
Participate with the daily prayer meeting and monthly prayer days.
In order to perform this role, it is essential that the post holder is in full sympathy with the aims and goals of AWM. To that end he/she must be a committed Christian [able to agree with the organisation's statement of faith] and able to fully participate in spiritual activities whilst carrying out the responsibilities of Database and Website Assistant.
How to apply
Email Carla, HR Assistant, at carlas@awm-pioneers.org to request a full job description and application form. Or contact Philippe our Assistant Communications Manager on 01509 239 525 to discuss the vacancy over the phone.
Application deadline
The application deadline for this vacancy has now passed.