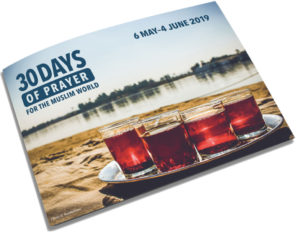 What is Ramadan about?
Ramadan starts on 6 May and marks a significant time in the year for Muslims. Islamic teaching calls them to examine their life and faith during this period of self-restraint. Many use this time to earnestly seek after God for His cleansing and guidance.
Practising Muslims will get up early to eat before sunrise before refraining from food and fluids until sunset throughout the 30-day fast.
We're praying for Christ to speak
For more than 30 years, Christians worldwide have united in prayer to ask Jesus, the Good Shepherd, to speak into people's lives. Many Muslims have testified to hearing God's call on their life as they earnestly fasted and prayed during Ramadan.
The Bible says:
The one who enters by the gate is the shepherd of the sheep. The gatekeeper opens the gate for him, and the sheep listen to his voice. He calls his own sheep by name and leads them out. John 10:2-3 (NIVUK)
Will you join thousands of Christians worldwide to pray for Christ to speak His words of hope and life to Muslim people this Ramadan?
How to order
Simply email Marie, our Prayer Co-ordinator, at mariep@awm-pioneers.org to place your order of the 30 DAYS OF PRAYER guide. A single copy costs £2.50 including postage, and we have promotional prices for supporters and discounts for bulk orders. Contact us for further details.
NOT IN THE UK? We would recommend that you contact the 30-DAYS-OF-PRAYER dedicated website to order your copy at the best mailing price for your region.