**WHILE STOCKS LAST**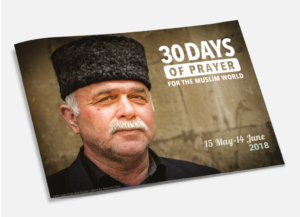 Did you know?
Ramadan begins on 15 May and signals a special month in the Islamic calendar. Many practising Muslims will rise early and eat before fasting from dawn to sunset. This routine will be the common experience for around 1.5 billion people who follow Islam across the globe.
Praying with faith and hope
Last year, more than 22,000 Christians across Great Britain and Ireland received the 30 DAYS OF PRAYER guide to pray for Muslims during Ramadan.
We desire for even more believers to join us this year in praying for Muslims to experience God's grace and goodness in Christ.
Over the past 25 years, millions of Christians worldwide across denominations and cultures have prayed in over 23 languages for Muslims during Ramadan using the 30 DAYS OF PRAYER guide.
The Bible says:
Rejoice always, pray without ceasing, give thanks in all circumstances; for this is the will of God in Christ Jesus for you.
1 Thessalonians 5:16-18 (ESV)
Would you like to join with thousands of Christians to pray regularly in faith and hope for Muslim people around the world during Ramadan?
How to order
Simply email Marie our Prayer Co-ordinator on mariep@awm-pioneers.org to place your order of the 30 DAYS OF PRAYER guide. Our current promotion price of £2.50 per booklet includes postage or you can receive further discounts on bulk orders. Contact us for further details.
NOT IN THE UK OR IRELAND? We would recommend that you contact the 30-DAYS-OF-PRAYER dedicated website to order your copy at the best mailing price for your country.
Join the prayer movement
The 30 DAYS OF PRAYER guide is the ideal resource to help you join this prayer movement for Muslims. It is packed with testimonies, Bible verses and prayer requests for each day. The theme in this year's prayer guide is symbols.
This booklet is a helpful aid for focused, intercessory prayer in your small group or local church. There are free resources online of how to make best use of the guide as a group – including a suggested small group session and Night of Power prayer meeting outline – by following this link: https://30daysprayer.org.uk/resources/