APPLICATION DEADLINE HAS NOW PASSED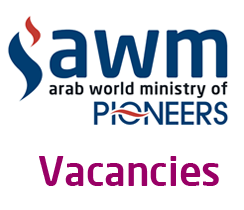 SALARY: £24,000 per annum pro rata
HOURS: 3 days / 22.5 per week

CONTRACT: 12month contract (with a view to offering a permanent contract)
LOCATION: LOUGHBOROUGH, ENGLAND
Passionate about world mission?
AWM-Pioneers is moving into a new phase to sustain and develop its fundraising function as we look to mobilise more people passionate about mission and church-planting among Arab peoples.
We are seeking to enhance our Loughborough team by recruiting a fundraiser with experience in major donor and events fundraising.
About us
AWM-Pioneers is a Christ-centred organisation serving around 90 long-term Christian workers involved in cross-cultural ministry.
We are part of the Pioneers family which is a fast growing international mission movement with over 3,000 Christians involved in church planting among unreached people groups.
About the role
For this part-time role, the successful applicant will:
Have a vibrant Christian faith, a passion for mission and excellent communication skills.
Have an understanding of the strategic nature of fundraising in God's Kingdom.
Be experienced in managing stakeholder relationships and an understanding of fundraising and mission in a cross-cultural context.
Be able to relate well with people of any background and have the ability to enthuse, motivate and partner with others.
It is a genuine occupational requirement that you are a committed Christian and in full agreement with the aims and goals of AWM-Pioneers.
Want more detail?
You can download a fuller version of the job advert for further background on the post before requesting a job description and application.
Fundraiser Advert 2017 (full version)
How to apply
Email Marie, Prayer Co-ordinator at mariep@awm-pioneers.org or phone the office on 01509 239 525 for a job description (including roles and responsibilities) and application form.
Application deadline
The application deadline has already passed (28 FEBRUARY 2017).