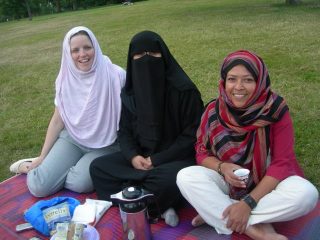 By Lauren, EDGE 2017 co-ordinator
Have you made any New Year resolutions? Why not add "step out in faith" to your list?
This year provides another opportunity to grow deeper in relationship with God; it's also another opportunity to allow Him to shape you.
So why not, this year, spend a couple of weeks witnessing how God is moving in the Arab world through one of our short-term mission trips (which we call EDGE teams)!
REGISTER YOUR INTEREST FOR EDGE 2017 (DEADLINE 3 APRIL)
Be part of an outreach team
Here are 3 reasons why it's worth considering being part of one of our teams:
Experience Cross-Cultural Ministry
Reach Unreached People Groups
Explore Long Term Possibilities
Read below for a general idea of this year's locations, but get in touch if you'd like specifics!
2017 Locations
EASTER TEAM
NORTH AFRICA – Easter outreach – 10 days in April
Read More >
Witness and participate in the work of the long-term team. For example:
Help meet the practical needs of the ministry such as paint the clinic.
Build bridges with local people through the opportunity of teaching English.
Finish with a prayer trip to a nearby city.
Easter outreach team is now full (booking deadline closed on  13 FEBRUARY 2017).

SUMMER TEAMS
MIDDLE EAST – 9 weeks from June to August
Read More >
Help run a four-week summer camp for children. Activities are likely to include:
Facilitating dance, acting, games and storytelling.
Having opportunities for sharing Jesus and teaching English.
Visiting historic and biblical landmarks.
THE GULF – 2 weeks in July
Read More >
Study the Arabic language and be exposed to the culture while you support the outreach of a long-term ministry in the Gulf.
Use the skills you have learned to initiate conversations with locals.
Take part in Bible study, and then launch out in intercessory prayers as you walk through the streets.
Visit local attractions as well as experience the culture and church life in the area.
NORTH AFRICA – 2 weeks in July
Read More >
Study the Arabic language and be exposed to the culture while you support the outreach of a long-term ministry in North Africa.
Spend the first few days being introduced to the terrain as you venture through the desert via four-wheel drive transport.
Mix with commuters in the city, meet people on the beach and build relationships with locals.
Return with a greater awareness of the different types of creative ministries that can be used in mission.
Interested?
We would love to begin exploring whether the Lord is leading you to join us in reaching the unreached on an EDGE trip this summer.  The costs of EDGE trips vary depending on the duration, destination and accommodation arrangements.
Email our new Edge co-ordinator, Lauren, on laurenj@awm-pioneers.org with any questions you have for future trips or call the office on 01509 239 525.
Ready to apply?
Application deadline for this year's summer teams is: 3 APRIL 2017.
For MORE LOCATIONS around the world arranged by our sister office site, visit www.pioneers-uk/edge .
You may also be interested in
NB. Library image has been used for illustrative purposes only.