30 Days of Prayer 2015
**OUR STOCK HAS NOW SOLD OUT**
Pray for Muslims this Ramadan
Fasting during Ramadan is one of the pillars of the Islamic faith. From 18 June 2015, Muslims across the globe will spend a month praying and fasting during daylight hours. Many will seek a genuine spiritual encounter.
Several believers from Muslim backgrounds testify to the Lord Jesus meeting them personally during this dedicated time of seeking God.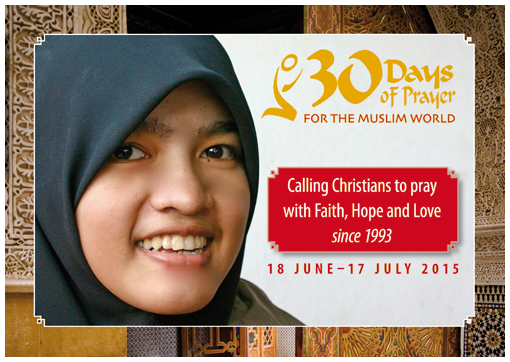 Join the prayer movement
For more than 20 years, the 30 DAYS of PRAYER ministry has united Christians across the world to pray for Muslims during Ramadan. We desire for more believers to join in this year and intercede for more Muslims to encounter God's love in Christ.
The 30 DAYS OF PRAYER guide is the ideal resource to help you join this prayer movement for Muslims. It is packed with testimonies, facts, Bible verses and a prayer focus for each day.
"I'll never forget that vision. The surgery was successful, but since that day my heart has been tied to Jesus." Mahad, Believer from a Muslim background – read his testimony on Day 11 of the 30 DAYS OF PRAYER guide 2015

How to order
Order your 30 DAYS OF PRAYER guide today for only £2 each including p&p (available to UK and Ireland residents only*). There are discounts for bulk orders – from six copies upwards- of the 30 DAYS OF PRAYER guides. This is an ideal resource to inform and inspire your church and prayer group about ministry to Muslims.
Email mariep@awm-pioneers.org with your UK or Ireland mailing address to place your order. Postage costs may vary for bulk orders.
*Live outside the UK & Ireland? Contact your nearest 30-Days national office to order your copy at the best mailing price for your country.