Give to the Syria Appeal
Your support is needed
You can play an enormous part in helping to make a lasting difference to Syrians. Your gift will enable us to resource our teams and church partners in ongoing compassionate ministry.
Here are 5 reasons why your gift is crucial.
1) Practical; more displaced families can receive bedding and food parcels
2) Emotional; workers can visit more homes and offer support and counselling
3) Spiritual; teams can expand and start more discovery bible study groups with seekers
4) Pastoral; our women and children's centre can host larger numbers
5) Strategic; we can equip more believers in church planting in the Middle East
The impact so far
We are so grateful to all those who have given to the Syria Appeal so far. It has enabled life-changing ministry for those affected by the conflict – both inside and around Syria.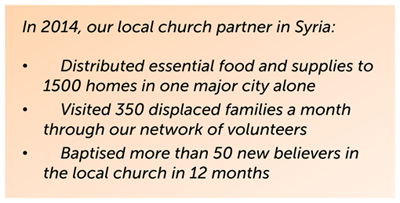 Compelled to act
But the situation remains critical. There are still more people in desperate physical, emotional and spiritual need. Where else can Syrian families receive love, practical support and the life-changing message of the good news, if not from God's people?
We receive regular comments from Syrian families, expressing great gratitude for the way our church treats them, prays for them, and helps them in the ways we are able. These actions are one of the small ways they can see that God loves them and hasn't forgotten them.
Simon*, Syrian Outreach Team Leader
GIVE ONLINE here and specify SYRIA APPEAL if you wish to support the project specifically. Unallocated gifts will be donated to Where Most Needed/Ministry Development Fund.
*Names have been changed and library images used for security.
Related articles
SYRIA APPEAL – 2014 update