Popular Saudi King dies at 90
King Abdullah of Saudi Arabia died at the age of 90 on Friday 23 January after two decades in power.
Regional influence
The country that King Abdullah left behind has the world's largest oil reserves and is its largest oil exporter.
His decision to continue oil production affected the downward slide of the price of oil. The new King Salman has vowed continuity with his half-brother's policies.
Some Arabs laud King Abdullah as a stablising influence and moderate reformer. The Arab Spring barely caused a ripple in Saudi Arabia, as King Abdullah ratcheted up allowances.
The country is a bastion for conservative Sunni Islam against Shia-majority Iran, with which it competes for regional influence. Today, the Sunni-Shia tension is being played out in several countries including Iraq, Bahrain and Yemen.
The West views Saudi Arabia as an ally and it is part of the fight against IS in Syria and Iraq, although hundreds of Saudis have joined IS ranks.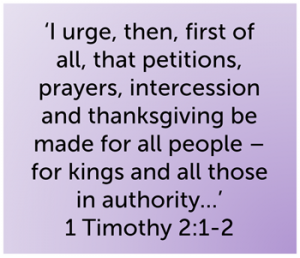 Spiritually significant
Saudi Arabia has the Qur'an as its constitution. The land is home to two of the holiest sites in Islam, Medina and Mecca. Mecca is the direction to which all Muslims pray and the destination of the annual pilgrimage, Hajj.
Many Saudis earnestly seek spiritual answers outside of their state religion. Several are following Jesus and discovering that He is truly the way, the truth and the life. One Saudi believer in Christ weeps regularly as he experiences the joy of knowing that God is with him.
The Bible says
I urge, then, first of all, that petitions, prayers, intercession and thanksgiving be made for all people – for kings and all those in authority, that we may live peaceful and quiet lives in all godliness and holiness. This is good, and pleases God our Saviour, who wants all people to be saved and to come to a knowledge of the truth. 1 Timothy 2:1-4 (UK NIV)
Pointers for prayer
Praise God for how He is changing lives in Saudi Arabia. Despite the ban on Bibles, Christmas and Christian websites, God's arm is not too short to reach into Saudi palaces, homes and hearts.
Pray for the nation's stability as the new monarch takes charge. May all those entrusted with leadership act justly, love mercy and walk humbly before God.
Pray that King Salman and his people come to know that Jesus is the world's Saviour and the King of kings. May this new chapter open doors for the extension of God's Kingdom in this precious land.
For more information on
PRAYING – sign up to our prayer resources
GIVING – support our Syria Appeal
GOING – explore how you can serve short term in cross-cultural mission