Highlights of 2014
'And whatever you do, whether in word or deed, do it all in the name of the Lord Jesus, giving thanks to God the Father through him.' Colossians 3:17
We love to close the year by giving thanks for all that God has done among us.
Here is a snapshot of answered prayer in 2014 we are celebrating:
Discipleship Ministry
– Saw fellowships form in each country of the Arabian Peninsula, a region with no historic Church.

– Encouraged more than 100 Arab believers from those countries in their spiritual growth.
Syria Appeal
– Seen our appeal raise £50,000 enabling our ministry teams to expand the work among Syrian refugees.

–  A local church partner in the Middle East supported by the Syria Appeal has baptised more than 50 people in 12 months.
READ MORE ABOUT THE SYRIA APPEAL
Media Team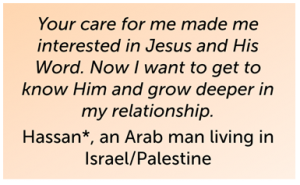 – Communicated with around 1.4 million Arabs effected by conflict.
– Saw nearly 7,000 Arabic Bibles downloaded.
Mission Mentoring
– Arranged three short-term summer mission teams.
– Connected with eighty people exploring their call to mission and provided initial cross-cultural orientation to fifteen people.

Looking forward
At AWM Pioneers we are passionate about reaching people facing physical and spiritual crisis across North Africa, Middle East and among Arab peoples around the world.
Despite the turmoil, God is at work in the region drawing people to Himself and invites the Church to join in and be part of it.
Thank you for your support so far and we look forward to what God will do through our partnership in 2015!
*Name changed and library image used for security.
You may also like