Saltmine play 2014 tour
Twelve venues. Three weeks. One powerful play.
Come along to the UK autumn 2014 tour of 'Between the Lines: Letters of Radical Faith'.
Experience the drama as you journey into the lives of these three people compelled by a God-given passion for the unreached.
2014 Tour Schedule details
Northern Ireland 19-21 September
19th Coleraine Baptist Church, Coleraine
TICKET INFO: 02825 871010
20th Wellington Presbyterian Church, Ballymena
TICKET INFO: 02825 871010
21st Hamilton Road Presbyterian, Bangor (6.30pm)*
TICKET INFO: 02891 473213
Contact Stanley, our Ireland Co-ordinator for further Northern Ireland details.
North/Midlands 24 Sep-5 October
27th St John the Evangelist, Carlisle
TICKET INFO: 01228 808949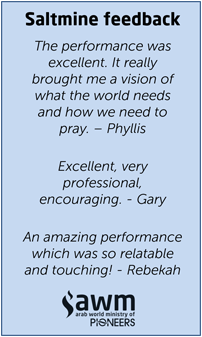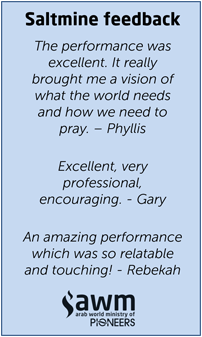 30th St David's Church, Coalville
TICKET INFO: 01509 551851
1st Raglan Road Christian Centre, Birmingham (7pm)*
TICKET INFO: 07806 689349
2nd Ivanhoe College, Ashby-de-la-Zouch
TICKET INFO: 01530 417313 or 01530 412339
WEBSITE
3rd King's Church, Loughborough
TICKET INFO: 01509 234234
WEBSITE
4th Cornerstone Church, Nottingham
TICKET INFO: 01159 588711
WEBSITE
5th Milking Bank Primary School, Dudley (6pm)*
TICKET INFO: 01384 671370
South 7-11 October
10th Maybridge Community Church, Worthing
TICKET INFO: 01903 229145
WEBSITE
11th Redhill Baptist Church, Redhill
TICKET INFO: 01737 764065
WEBSITE
* All performances start at 7.30pm, except where indicated.
If you would like to know more details then contact Phil, our Communications Manager, for England venue details and general tour information.

NB. AWM is not responsible for the content of external sites. This page was last updated on 14 October 2014.
Other articles in the series

You may also be interested in