Ramadan 2014 begins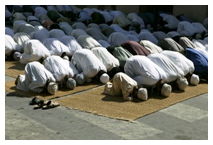 Ramadan will begin on the next sighting of the moon.
From 28 June, Muslims worldwide will spend a month earnestly praying and fasting in the hope of spiritual revelation. Millions will spend 30 days trying to do their utmost to please God. Please pray for our Heavenly Father to reveal Himself to them. May they have dreams and visions of the living Christ and discover the gospel of grace.
Religious scholars in Saudi Arabia, the homeland of the Islamic prophet Muhammad, officially announce the start of the fast.
For More on Ramadan
DAILY WALLCHART – download from Arab World Media (external link)
30-DAYS PRAYER GUIDE – buy a comprehensive guide for just £2