Searching for Christ online
"All I want is a copy of the gospel. Please send one to me."
Butrus*, North Africa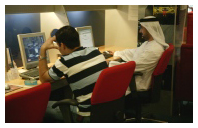 Every month, hundreds of Bibles and thousands of evangelistic resources are downloaded by Arab Muslims exploring the Christian faith. The online ministry run by our media team, Arab World Media (www.arabworldmedia.org), sees several thousand Arabs exposed to the truth about Jesus every week. The website's popularity among Arab young people is steadily increasing.
More than stats
Media workers receive hundreds of messages a month from people at all stages of the journey of faith. Enquirers come from all over the Arab world. Some simply want to comment on the website's Christian content, while many Muslims actively seek to investigate Christ. Last year, media workers received over 600 emails in just three months from Arabs searching and wrestling with the truth. The team follows up every message personally and sensitively.
"I would like to know more about Christ." Samir*, Middle East
Pray with us
Pray that millions of Arab Muslims will continue to be drawn to the website and have hearts open to the Spirit of God.
Pray for the thousands who have downloaded the Bible already. May they respond in faith to the truth they read about Jesus.
Pray too for the media team as they seek to respond to each enquirer's message with wisdom and grace.
(*Names have been changed and library images used for security).
You may also like
TESTIMONY – FILMED BY ARAB WORLD MEDIA
GIVE TO ARAB WORLD MEDIA