It was worth it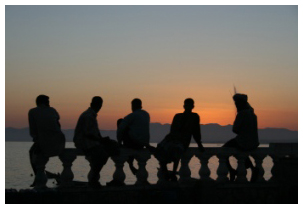 Delighted
Not too long ago, members of Wafi's* Middle Eastern family asked to be baptised. An AWM worker helping to mentor these new believers was more than delighted to help. But he gave one condition. He insisted that Wafi's father – the culturally accepted leader in the group – must conduct the baptism. They agreed and set their hearts on their chosen location. The Red Sea.
Driven
Months later, the request came again. More family members wanted to declare their love for Christ by being baptised in the Red Sea. But due to the civil unrest, sparked by the Arab Spring, fuel was now scarce in the nation. The same AWM worker agreed to drive the group once more, despite having only three-quarters of a tank of petrol left. Barely enough to reach the coast and back. But he was driven by his desire to help his Arab friends testify to their faith and obey their Saviour's call to deeper commitment.
Determined
The group set off. They stopped at each petrol station along the route hoping for a top up. As suspected, there was no more fuel available.
Relieved, the group safely reached the Red Sea. There was much rejoicing as three members of Wafi's family publicly declared their faith in Christ through baptism.
During the journey home, the fuel tank meter read 'empty'. The worker continued to drive on determined to return his friends safely to their village. Taxis were rare and walking on foot was unsafe in the political climate.  They prayed lots and the worker arrived home. Just. And only by driving 'on fumes'.
The car sat unused for twelve weeks until fuel was available again. But the worker doesn't mind. 'The sacrifice was worth it,' is his declaration!
What drives you?
We love to encourage Arab believers to grow in their love and service to Christ.
We love to inspire people with news of how God is moving in the hearts of Muslims – like Wafi's family.
We love to invite people to join in with God's Kingdom purposes and get involved in cross-cultural ministry in the UK and overseas.
This is what compels us.
What about you?
*Name has been changed and library images used for illustrative purposes.
Related topics
COMPELLED BY OUR CORE VALUES (VIDEO)