How Ramadan begins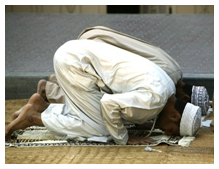 Ramadan will begin on the next sighting of the moon.
The Muslim world follows the lunar calendar so the dates change each year. When the new moon appears, millions of Muslims will begin the thirty-day fast. Foods or liquids (which includes saliva!) are then no longer allowed between sunrise and sunset. Some people even cover their mouths in case they swallow a fly.
Saudi Arabia, the homeland of the Islamic prophet Muhammad, officially announces the start of the fast. Religious scholars in that land expect to see the moon around Monday 8 or Tuesday 9 July 2013.
For More on Ramadan
DAILY PRAYER POINTS – from Arab World Media (external link)