Clearing debts with God
Missing a payment on a credit card has consequences.  The bank reduces your credit, a collection agency demands you pay up and your credit rating tumbles.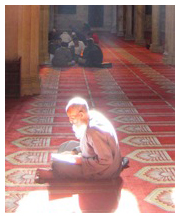 Ramadan is a month of fasting for many Muslims.  But some choose not to. One man in Jordan, supervising a construction site, decided that he could not fast all day, stay up to feast during the night and still be able to work the next day.  Our colleague Brent* asked him what would happen to him for not fasting.  He replied, "God will charge me."
A balancing act?
Muslims believe they must balance their accounts with God by doing more good deeds than evil ones.  Fasting during Ramadan is critical to ensure the scales remain on the good side.  Brent explained to the engineer, 'I don't need to fast for the forgiveness of my sins, because Jesus died on the cross to pay for my sins.'
The Bible states that our sins put us in debt to God.  But, God loved us so much that he sent Jesus to die for us.  Bill paid. Debt settled. It is finished.
*Name has been changed and an image used for illustrative purposes.