If only Jesus would appear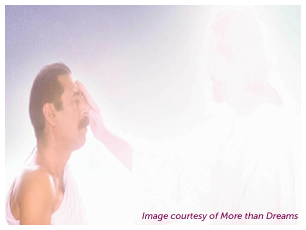 Ranis* became a believer in Christ in North Africa and regularly testifies to God's miraculous intervention in his life. But he was stunned into silence after one life-changing encounter.
My family persecuted me, so I secretly bought a plane ticket and flew to Egypt. When I landed, I didn't know what to do or where to go. I took a taxi and told the driver to drop me off at the nearest train station. I ended up sleeping in a very cheap hostel that evening. Over time I met other former Muslims who now trusted in Jesus, like me.
Three of us decided to rent an unfurnished flat together. We literally had nothing! So one of us suggested, 'I think we should pray and ask the Lord to provide for us.' That was the first time we had ever requested anything from God in prayer. We asked him for a refrigerator, sofa, cooker and other household items. Later that same evening somebody brought over those exact items (not one more and not one less). God had answered our prayers precisely.
Sometime later, the three of us were sitting in our living room asking each other the question: 'What would you ask Jesus for if He appeared before you?' Some said, 'a beautiful wife', 'a good job', 'a new car', and so on. Then suddenly, Jesus actually appeared before us in the room. We asked each other, 'Are you seeing this too?' We all affirmed that we could see the vision of Jesus in our room. The vision lasted about 40 seconds. Jesus did not say a word, but we could feel His peace resting upon us, as if He was saying to us, 'Do not be afraid! I am with you in this apartment!'
Needless to say, none of us could say a word. We never did request any of the things we had thought to ask. We were too captivated by His presence.
PRAY THROUGH RAMADAN
Order a 30-Days prayer guide and join the prayer movement for Muslims to encounter Christ this Ramadan. May the Spirit draw many other Arab people to follow the risen Lord.
NEED MORE FUEL FOR PRAYER?
PRAYERLINE & PRAYERLINK – click here for links to AWM's regular prayer resources.
*Name has been changed. Stock image used for illustrative purposes.