Great Expectations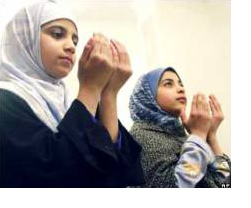 Mark and Mary* are working in a troubled part of the Arab world. They are finding more and more Arab people spiritually hungry and receptive to God's Word. They sent us this encouragement in the last few days:
The other evening, Mary was asked by her Arab friend Johara* to come and pray for her sister Aadab*. Aadab was in some distress as her husband is leaving her. Johara is a new believer and was able to overcome her fears and powerfully share the gospel with her sister for the first time. Mary then asked if they could ask God to confirm the reality of the message to all those who were listening. They all closed their eyes and held out open hands with their palms and faces turned upward.
After a few minutes, they heard weeping, as Aadab's 18-year-old daughter shared through tears how she saw a man, dressed in white light. He was beckoning her to come to Him. She explained that she was overwhelmed by peace in the presence of her Saviour.
'Expect great things from God. Attempt great things for God.' William Carey
Stirred to pray? CLICK HERE
*Names have been changed and library image used for illustration.