Bernard Collinson
1919-2013
We thank God for Rev Bernard Collinson, who went to be with the Lord on 6 January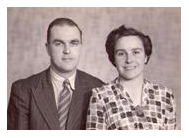 2013, aged 93. He had a life-long passion for North Africans, particularly the Berbers. This was wonderfully highlighted during a thanksgiving service held at Bethesda Baptist Church, Ipswich on Thursday 17 January 2013.
Love in action
In 1950, Bernard and his wife Joyce, were launched into mission by Bethesda Baptist Church. They engaged in evangelism and children's work and ran a medical post in the hills of Kayblia, Algeria*. Bernard's experience of caring for casualties under fire in WW2 proved useful during the Algerian War of Independence (1954-62).
Spiritual leader
In 1965 they moved to Casablanca, Morocco where Bernard was Field Director, and later relocated to Aubagne, France.  Between 1974 and 1978 Bernard was Director of the Missionary Training Centre in Montpellier, guiding language study and orientation and giving spiritual leadership to new mission members.  He and Joyce gave frequent hospitality. Bernard also took on the role as matchmaker within the mission on more than one occasion.
In 1978 they moved to Valence to start a ministry of deputation to French churches and in 1980 he became Regional Superintendent for France.  At the same time he and Joyce started a renewed ministry to Kabyles, including door-to-door evangelism in the tough northern surburbs of Marseille.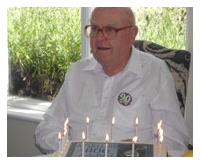 Rejoicing in the harvest
Bernard persistently encouraged others towards mission. On retiring in 1987, he served on the AWM UK Council. He was thrilled to also lead a communion service of 300 believers (mostly Kabyles) during his last visit to Algeria in 2007. After years of labouring for the growth of the Algerian Church, it was a dream fulfilled.
We pray for the new generation who are carrying the baton of gospel work among North Africans.
*The same area of AWM's first mission team back in 1881.