On The Margins
"Now he had to go through Samaria."  John 4:4 (NIV)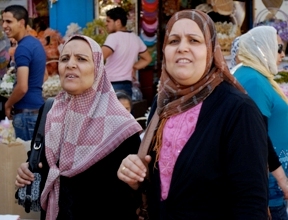 Technically, Jesus could have diverted round the area.  Many Jews did. But as he was on foot, he chose the direct route through Samaria. He was thirsty, and so he paused by a well.
A woman came to draw water at midday, indicating that she operated on the margins. Being Middle Eastern, she likely wore a head covering. And Jesus asked this woman for water.  This woman who was on the margins of a despised people.
She now loves Jesus

The Alif course is an introduction to the Christian faith written for Muslim and Middle Eastern minds.  Sheena (not her real name) has been following this course for about six months with an Iraqi asylum seeker.  She writes,
It has been a tremendous tool to opening the Scriptures and sharing the person and identity of Jesus.  She has loved the whole thing – it's as if she is deeply drinking it all in.  She was visibly moved by the sessions on Jesus, especially about the Church being a community of followers of Jesus.  She now loves Jesus.  She accepts that he died and rose again, but has yet to fully grasp what his death and resurrection have achieved.  She asked to come to church with me and now frequently attends.
Living on the margins

Numerous Muslim women are veiled.  They live in segregated societies, and many exist on the margins.  They are taught that out of a thousand people in heaven, only one is a woman.
Some estimate, that  nine out of ten Muslims who come to Christ are men.  To reach the women of the Muslim world, we need more women to choose to walk into their neighbourhoods, befriend them and share Jesus.
Join us in impacting more Muslim women with the love of Jesus.
*Library image used.