A Light Has Dawned
'The people walking in darkness have seen a great light' Isaiah 9:2
Light and darkness. The contrast couldn't be starker!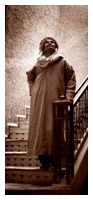 In the past year, it appears as if darkness has enveloped several parts of the Arab world. The peaceful Arab Spring demonstrations launched with high aims two years ago are now distant memories. Many hoped that this path would lead Arab people to a better life, but it has encountered the roadblocks of political turmoil and conflict. In the scramble for power across the region ordinary Arab families are paying a terrible price.
Against this dark canvas, Arab people need to hear the promise of light from Isaiah the prophet.
At Christmas, we remember that Jesus – God's light for the world – arrived against a backdrop of darkness and unrest.
His light still shines
The light of the world is still shining into the hearts of those desperate for deliverance. His Word continues to bring life and peace to those who put their faith in Him. While we continue to intercede for an end to violence and upheaval across the Arab world, we also rejoice that in all that God is doing.
2012 Snapshot
More than 2 million Arab people have visited our evangelistic websites in 2012
We received more than 5,700 spiritual enquiries; 65 individuals requesting face-to-face meetings
Christians are experiencing more freedom in some Arab countries to openly express their faith – both workers and local believers
Many Arab individuals and families have come to faith in Christ
Many new church groups have been planted across the region
We are so grateful for every gift we receive towards the wonderful work of bringing the good news of Christ to Arab people. And we would love to do more. If you would like to give towards our CHRISTMAS APPEAL there's still time. GIVE ONLINE