Pray for Israel/Palestine
Pray for protection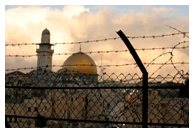 Praise God for those coming to Christ in Israel/Palestine, from both Arab and Jewish backgrounds. Pray that Christian workers continue to have some freedom to minister and witness for the Lord.  May those who respond to the gospel be protected and guided as they seek to live out their faith in a challenging environment.  May many more recognise Jesus as God's promised Messiah, and Saviour of all peoples.
Greetings. I am a Muslim who has become interested in Christianity and I have some questions. I wonder if you can help me and whether God can guide me to the truth through you...
21 year old Palestinian man responding to our Arabic ministry website
Pray for wise leadership
Pray for wisdom and courage for the political leaders, as they seek to resolve the root causes of unrest.  May there be renewed efforts to move peace processes forward and encourage reconciliation rather than division.
Pray for peace
Be inspired by this Scripture below to pray for the best possible environment for the gospel to flourish.
1 Timothy 2:2-6
I urge, then, first of all, that petitions, prayers, intercession and thanksgiving be made for all people— for kings and all those in authority, that we may live peaceful and quiet lives in all godliness and holiness. This is good, and pleases God our Saviour, who wants all people to be saved and to come to a knowledge of the truth. For there is one God and one mediator between God and mankind, the man Christ Jesus, who gave himself as a ransom for all people…
You may also like
FROM HATRED TO HOPE IN CHRIST
TRUE HOPE FOR THE MIDDLE EAST
THE HAJJ IS THE PINNACLE
WEEPING FOR THE SYRIAN CHURCH
Pray for the nations
NORTH AFRICA
PRAY FOR LIBYA
PRAY FOR TUNISIA
MIDDLE EAST
GULF
PRAY FOR BAHRAIN
PRAY FOR OMAN
PRAY FOR SAUDI ARABIA
PRAY FOR YEMEN