Breaking the Barriers
By a Pioneers worker in the Arab world
I have been stirred again by this book beside me. In it, Ted Fletcher* reasons,
'Why should some hear the life-giving message many times before some have the chance to hear it once?'
He is absolutely right. Maybe this is the very question that has propelled many of my colleagues and me to the places we now live.
Our challenge nowadays, however, comes from another question.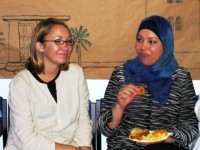 'Now that I am here, how do I cross the barriers to pass on this life-giving message to my neighbour?'
It is a good question to keep asking throughout a lifetime of service. We begin to answer it by first naming those barriers. A few that spring immediately to mind are:
1. language
2. my prejudice
3. my neighbour's prejudice
I would love to hear your thoughts to this question below. Why not leave a comment and help us explore together how to break through the barriers?
'What are some ways to cross the barrier of my neighbour's prejudice of me in order to give them the life-giving message?'
*founder of Pioneers International
NB. Library image used for security reasons.