YouTube, Conflict And The Gospel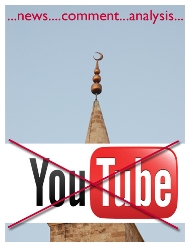 A recent YouTube video has triggered a range of reactions across the Arab world.
Some outraged Muslims have used it as a pretext to riot and vandalise Western embassies in Egypt, Libya, Tunisia and Yemen. Tragically, several diplomats have died as a result.
In contrast, many Muslims have been appalled at both the inflammatory video and the extremist minority responding with violence. A vast number acknowledge that there is no relation between governments and individuals who upload online content.
A Time Of Soul-Searching
Muslims view Muhammad as the final prophet, and the Qur'an as the holiest of books. The situation is therefore not seen as a freedom of speech issue but as an offensive and blasphemous attack which undermines their confidence in their religion.
This debate comes while many in the Arab world are asking deep questions about what values should underpin their society and how Islamic their country should be. There is also a growing number of people privately questioning their Muslim faith, looking for truth and values that ultimately satisfy the yearning of their hearts.
Three Pointers For Prayer
Pray for seeking Muslims: Pray for both moderate and extremist Muslims.  May they come to know that only the death of Christ provides the forgiveness, hope and eternal security that they seek. Pray using God's promises that honest seekers will find Him and receive eternal life through His Son (Jeremiah 29:11-13; 1 John 5:11-12).
Pray for leaders: Pray for governments to respond wisely and for people to restrain from violent retaliation. May the international community increasingly tackle issues of conflict with cultural insight and sensitivity.
Pray for Christian media ministries: May the gospel be heard and embraced by those wrestling with spiritual questions and doubts. May the Spirit gift workers in Arab World Media and other media ministries with creativity and clarity as they produce relevant content to engage seekers and disciple believers.
…Always be prepared to give an answer to everyone who asks you to give the reason for the hope that you have. But do this with gentleness and respect, keeping a clear conscience, so that those who speak maliciously against your good behaviour in Christ may be ashamed of their slander. 1 Peter 3:15-16
You may also like
A CALL TO COURAGE
A NEW DAWN
PRAYING FOR A REGION IN TURMOIL
Other articles on this topic

KHALED – A FORMER MUSLIM'S THOUGHTS ON 'THAT' MUHAMMAD VIDEO* (external)
*AWM/Pioneers is not responsible for the material on these external sites.