Pray for Yemen
As Muslims around the world enter another week of the Ramadan fast, we ask you to urgently focus your prayers on the children of Yemen.
Aid agencies warn that Yemen faces a terrible disaster. The combination of rising global food prices, severe water shortages, local conflict and a seriously weakened government have left around ten million people unable to buy food. Many children and babies are severely malnourished, and some are not able to survive.
Yemen is the poorest country in the Arab world with unemployment around 40%. It is even harder to find work during Ramadan.
Pray for intervention
Please pray for God's intervention in this drastic situation.
– Pray for the Yemeni people to receive the urgent help they need.
– Pray for food to be made available at affordable prices so that people can feed their families.
– Pray for our Father to make His presence known to the Yemeni people.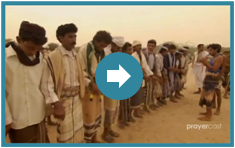 For further prayer points and information, visit http://prayercast.com/yemen*.
Also see the BBC NEWS online article* for background on Yemen's food shortage: http://www.bbc.co.uk/news/world-middle-east-18896993.
* AWM/Pioneers is not responsible for the content of external Internet sites
Other articles on prayer
PRAY THROUGH RAMADAN
30 DAYS OF PRAYER
TC12 PRAYER INITIATIVE
Other countries
PRAY FOR SUDAN
PRAY FOR LIBYA
PRAY FOR TUNISIA
PRAY FOR SAUDI ARABIA
PRAY FOR EGYPT