Pray for Saudi Arabia
God is working powerfully in Saudi Arabia through Christian media. It is exciting to hear of increasing numbers of seekers contacting Christian websites and TV stations for more information. Around 1.8 million children in this country are tuning into Christian shows*.
Many enquirers are encountering the truth about Christ for the first time, some by browsing on their mobile phones. Pray for more people to embrace the gospel, and for even the hardest hearts to be touched by what they see and hear. Pray for media follow-up teams to reply to seekers with grace, truth and Spirit-filled wisdom.
The birth of a church?
Local Christians have set up their own online community to encourage other Saudi believers in the country. This is a spiritual lifeline for Saudi believers who face huge obstacles when seeking to meet with one another. Thank God for this initiative, and pray that He uses this group as a training ground to develop leaders who will nurture fellowships throughout the land.
The workers are few
The nation desperately needs more signposts to Christ. Teams urgently need others to join them in living and witnessing for the Lord in daily life. In some regions there are very few or no workers. Ask the Lord of the harvest to send more Arabic-speaking workers and build His Church among the 25 million people of Saudi Arabia.
Once you've prayed, why not share this prayer need by clicking on our Facebook and Twitter buttons below…
For more prayer points and a background on Saudi Arabia, visit http://prayercast.com/saudi-arabia**.
*reported by Sat-7KIDS
Watch the Saudi video on prayercast.com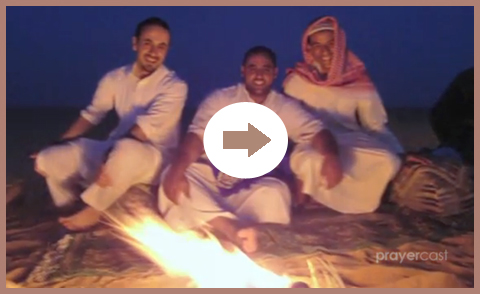 ** AWM/Pioneers is not responsible for the content of external Internet sites
More articles on prayer