TC12 Prayer Initiative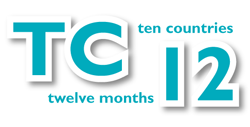 During 2012, AWM's media team will broadcast online tailor-made  gospel presentations to Muslim people in ten Arab countries. Several of these countries have been chosen due to a historically high level of response to the gospel. But some of these countries are the most difficult to reach with the good news of the Saviour.
At the same time Arab World Media's Arabic evangelistic website is launching a major evangelism campaign, focused on the same countries. In total, ten countries will be introduced to the claims of  Christ, in twelve months (TC12).
Please join us as we pray for spiritual breakthrough in the Arab world, with many people hearing and responding to the message of the gospel. Please intercede for workers in these countries who will play a vital part in discipling and mentoring seekers and new believers.
Your partnership in prayer is vital to the impact of this evangelistic campaign.
Stirred to pray?
You can join the TC12 (ten countries in twelve months) prayer initiative, and receive monthly updates by emailing Marie on prayer@awm-pioneers.org.
Pray with us for many Arab people to receive the priceless gift of salvation in 2012.
RELATED SITES
ARAB WORLD MEDIA