Syria Appeal launched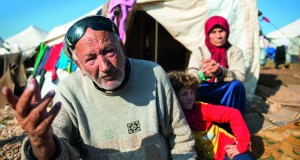 The situation in Syria becomes more desperate every day. The nation's civil war was prompted by protests that started more than four years ago. It doesn't seem like stopping. With other outside factions joining the conflict, the region is becoming more unstable and many are fearing the worst. We pray for the best long-term solution to the complex crisis but also seek to practically help those caught in the crossfire today.
You can help
Your gifts are equipping Christians to take urgent supplies to the hurting and vulnerable Syrian refugees in surrounding nations. Our partners work with local church partners who are not affected by political associations.
You can give simply and securely today by going to our ONLINE GIVING page and selecting SYRIA APPEAL in the projects drop-down menu.
Snapshot of impact in 2015
– More than 3,000 visits to Syrian families
– More than 2,000 women and children have attended the large bi-monthly church gatherings
– More than 850 women and children have visited the centre run by workers
– Around 50 groups of seekers have explore the Discovery Bible Study approach
– Up to 5 local believers have been supported in full-time gospel ministry

Thank you to all those who have given so far.
April 2014 – Syria Appeal Fund update: £30,000
November 2014- Syria Appeal Fund update: £50,000
May 2015 – Syria Appeal Fund update: £115,000
November 2015 – Syria Appeal Fund update: £130,000