I Found Rest In Christ
I wanted to hear their story.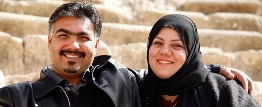 When I visited some British friends in a Moroccan city, I met a Moroccan Christian couple and asked them to share their journey to faith.
The husband had become a Christian because he had seen such a change in his brother after he had come to Christ. The wife was extremely opposed to this and tore up her husband's Bible.  She even put the phone down on any Christians who tried to contact her husband.
She began to reflect on how her husband had changed dramatically. After a while, she also became a Christian.
I then asked the couple what had changed in their lives since they had come to know Christ.  They both replied that there was 'rest' in Christianity which they had never found in Islam.
In the gospels, Jesus declared, 'Come to me, all you who are weary and burdened, and I will give you rest.' Matthew 11:28
This couple have experienced that Jesus wonderfully keeps his promise.
(Library image is used for illustrative purposes only and doesn't represent people mentioned in this article)