Why Muslims Go To Mecca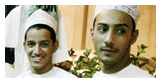 Millions of Muslims have left for the Hajj. But what is their hope? Many travel to fulfill religious ritual for themselves or others, while some long to return after four days with their conscience cleansed.
See video of Muslims on Hajj (5mins 30) – created by Praying Through the Arabian Peninsula network
Moved with compassion
The Bible tells us that Jesus left the glories of heaven to save us from our sin. There is no need for people to make a pilgrimage to become clean in God's sight.
Chris, a Pioneers worker in the Gulf shares his prayer burden with us:
'As these people created by God for the purpose of knowing and glorifying Him are still blinded, pray that during this Hajj season God will heal their eyes in order for them to recognise Jesus as Saviour.'
Bible verse
'The people living in darkness have seen a great light; on those living in the land of the shadow of death a light has dawned.' Matthew 4:16
For more on the Hajj
Praying Through the Arabian Peninsula