Praying For A Region In Turmoil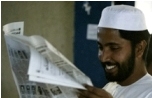 Media commentators are struggling to keep up with pace of change and define the revolution sweeping across the Arab world. Some things are clear though. The movement is a genuine people-led one; the region has been changed forever. One Arab church leader describes it as 'the first post-modern / Facebook revolution the world has ever seen'.
Only God knows what the future holds for the Arab world and so we must continue to trust in His sovereignty and power – whether the new era is marked by peace or persecution.
But, how should we join Arab believers in praying for their homelands?
'I urge, then, first of all, that requests, prayers, intercession and thanksgiving be made for everyone – for kings and all those in authority, that we may live peaceful and quiet lives in all godliness and holiness. This is good, and pleases God our Saviour, who wants all men to be saved and to come to a knowledge of the truth.'

1Timothy 2:1-4 (NIV)
1. Pray for those in current or emerging governments
The Arab world region is in limbo. Two (mutually exclusive) trends seem to be developing in the protests. While many cry out for a more secular state, others seek to pursue a fundamentalist Islamic agenda. We may have to wait several months before people can vote and new governments take shape.
Regardless of what flavour of regimes take charge, the Bible urges us to pray all kinds of prayers for those in high office – even thanksgiving ones! This command is even harder to stomach if we are aware of a state's attempt to stamp out gospel witness.
We must consider that the Apostle Paul wrote his letter to Timothy under a government opposed to followers of Christ. We do well to note that 'no government' is a fearful prospect for a society. The Scriptures also remind us that God's ways are not our ways and that He fulfills His Kingdom purposes no matter who is 'in power'.